Features and Advantages of Metal Roof Roll Forming Machine
This metal roof making machine series is for continuously roll forming and pressing step tiles sheets. The step length of these steel roofing machines can be set up and the depth of each step is adjustable.

The production speed of this series is about 8 m/min.

Similar to the roof tile roll forming machines in stock, this metal roofing machine series also possess multiple patents under CE Certified and EUROPEAN quality standards.

Prompt delivery of this model is available.
Raw Material for Metal Roof Roll Forming Machine
Material type: Color coated Steel, Aluminum sheet
Thickness: 0.4-0.6(mm)
Yield Strength: 230-350MPa optional
Width: 1200/1220/1250(mm)
Production Line Components and Parameters of Metal Roof Roll Forming Machine
| | |
| --- | --- |
| 1. Decoiler | 5t/8t/10t/15t Motor/hydraulic motor/passive (optional) |
| 2. Filming covering device | optional |
| 3. Front shear | optional |
| 4. Lubricating device | no need |
| 5. Roll forming system | individual standing column structure |
| 6. Safety cover | optional |
| 7. Step pressing unit | Step length, depth, head & end length is adjustable |
| 8. Post cutting | hydraulic |
| 9. Output System | Manual supporter/ Automatic Stacker (optional) |
| Stackmaster | (Output direction) Lateral/Longitudinal (optional) |
| 10. Hydraulic system | Power supply for decoiler /post-cutting system |
| 11. Electric control system | MITSUBISH/ SIEMENSE/AMS (optional or as requested) |


Step Roof Tile Line Layout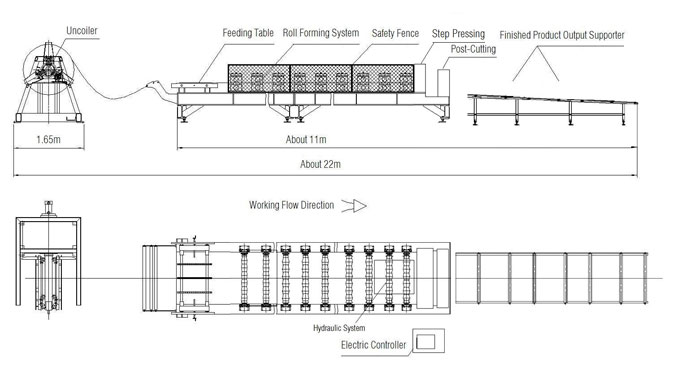 Working Flow of Metal Roof Roll Forming Machine
Similar to the high-speed roofing tile-making machine, the working flow of the metal roof panel machine also goes through the following stages:
Coil Charging Car (optional) - Decoiler (passive/auto) - Front Shear(optional) - Feeding and Guiding Table - Filming Covering (optional) - Roll Forming System