Trapezoidal Profile Roofing Sheet Making Machine Introduction
This machine is used to make trapezoidal profile panels. A trapezoidal roof profile has a ribbed trapezoidal-shape pattern across the panel. Trapezoidal rib roofs are popular with producers because the shape makes them very material-efficient (a high strength-to weight ratio). This makes for a very cost-effective profile. The shadows of the trapezoidal shapes offer clean lines whether installed vertically, diagonally, or horizontally. They also possess good structural characteristics and can carry design loads well (e.g. for snow and wind uplift).
Features and Advantages of Trapezoidal Profile Roofing Sheet Making Machine
1. Fully automatic trapezoidal profile roofing sheet roll forming machine, specially designed for forming various sizes and specifications trapezoidal profile roofing sheet and wall panel, under mass-production.
2. Production speed: 20/30/40/50/60 m/min optional.
Working with a non-stop flying cut and full automatically stacking system, Max speed of the line can reach 60 m/min.
3. Cassette type platform quick-change Machine base for multi-profile purposes is available for choice.
4. Certified with Multi-Patents; CE Certified, EUROPEAN quality standard.
5. Most of the hot & popular profiles models, we have ready roofing tile roll forming machines in stock for prompt delivery.
Finished Panels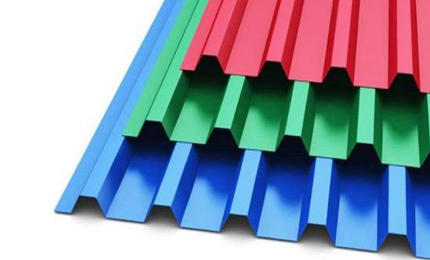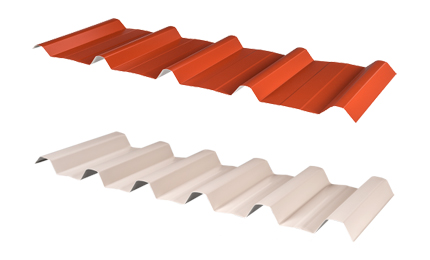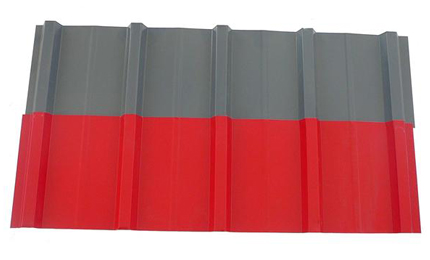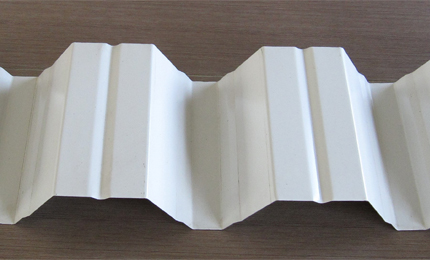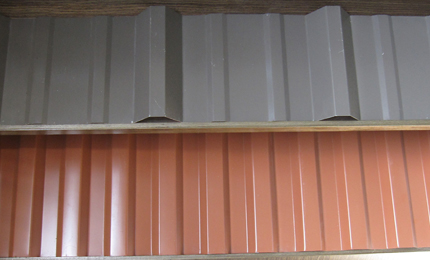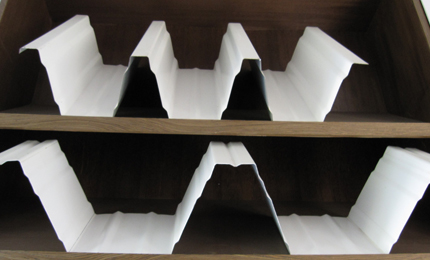 Popular Roofing Profile Drawings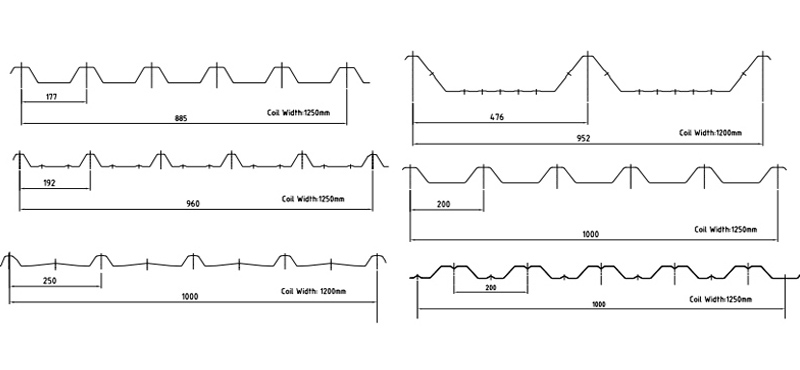 Working Flow of Trapezoidal Profile Roofing Sheet Making Machine

Feeding and Guiding Table


Filming Covering (optional)

Roll Forming System
Roll Forming Line Layout
Products Application
This profile is designed for commercial and industrial roofing; which is suitable for low pitch roofing as well as curved roofing.

Sheets with higher ribs and bold ribs, making exceptionally attractive and high-performance roofing and cladding product for various Light Steel structure construction, civil-construction and mansions Building.
Suitable Raw material
Material type: Color coated Steel, Galvanized Steel, Aluminum sheet, stainless steel
Thickness: 0.3-0.7(mm)
Yield Strength: 230-300/350/550-675(MPa) optional
Width: 1200/1220/1250(mm)
Production line Components and Parameters
| | |
| --- | --- |
| Decoiler | 5t/8t/10t/15t Motor/hydraulic motor/passive (optional) |
| Filming covering device | optional |
| Front shear | optional |
| Lubricating device | no need |
| Roll forming system | 20/30/40/50/60 m/min (optional) |
| Safety cover | optional |
| Post cutting | Motor/hydraulic (optional) |
| Output System | Manual supporter/ Automatic Stacker (optional) |
| Stackmaster | (Output direction) Lateral/Longitudinal (optional) |
| Hydraulic system | Power supply for decoiler /post-cutting system |
| Electric control system | MITSUBISH/ SIEMENSE/AMS (optional or as requested) |
Related Information
| | |
| --- | --- |
| Machine Condition | Fully New, A Grade quality |
| Panel Shape | As profile drawing and customer's requirements |
| Operator needed | 1-2 persons |
| Power Supply | 220V/380V/415V/460V, 50/60Hz, 3P (as requests) |
| Equipment Weight | About 15t |
| Dimension | (L*W*H) about 25*3*2m |
| LOADING SIZE | Normally need 1x 40' (+ 1x 20GP) container |
| Equipment Color | Normally Blue/White, or as requests |
| Place of Origin | Zhejiang, China (Mainland) |
| Packing | Standard and careful export packing |
Related Trapezoidal Profile Roofing Sheet Making Machine