Hangzhou Roll Forming Technology Co., Ltd's four models of decoilers through the CE certification, and obtained CE MD Certificates and CE EMC Certificates. The EC type examination, the technical examination and the machinery inspection is conducted by SGS, which is an internationally recognized inspection, certification, testing and certification body. The four models decoilers: RFT-5TCP/RFT-8TCP/RFT-10TCP/RFT-15TCP is perfect in compliance with the health and safety requirement according to the Machinery Directive 2006/42/EC Annex I and Electromagnetic Compatibility Directive 2014/30/EU.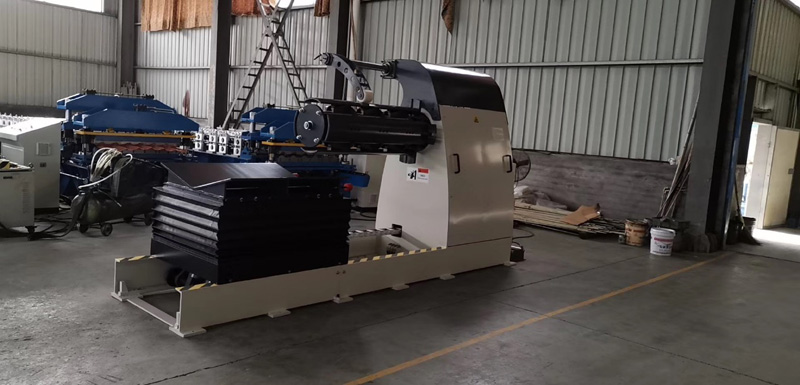 RF Series Decoilers Introduction
The decoiler is feeding work in the production line for roll forming machine. The decoiler adopts cantilever type structure.
It Includes machine frame, cantilever type extension, decoiler driving system (by motor), Hydraulic system, and electric control system Etc., with the function of install and unwind the coil.
With arm-type decoiler, the machine is composed by main frame, arm-type hydraulic expanding axis, motor releasing of transmission system, coil car, hydraulic system, PLC control system, which are used to realize the function of coil loading and unloading.
Series Decoilers Differences

No.
Item
RFT-5TCP
RFT-8TCP
RFT-10TCP
RFT-15TCP
remark
1
Capacity

5000Kgs
8000Kgs
10000Kgs
15000Kgs


2
ID of the coil
φ

508mm

φ

508mm

φ

508mm

φ

508mm

extension cope: Φ4

6

5-Φ515

3
Width of the coil
1000-1550
1000-1550
1000-1550
1000-1550


4
Max. O.D. of the coil
φ1

350mm

φ1

350mm

φ1

350mm

φ1

350mm



or

φ1

750mm

or

φ1

750mm

or

φ1

750mm

or

φ1

750mm

5
Speed of decoiling:
≤

4

5

m/min

≤

4

5

m/min

≤

4

5

m/min

≤

4

5

m/min

mandrel running speed: 23r/min
6
Power of the motor
5.5KW
5.5KW
7

.

5KW

7

.

5KW



7
Hydraulic power
3KW
3KW
3KW
3KW


8
The hydraulic Pressure
Max20Mpa
Max20Mpa
Max20Mpa
Max20Mpa


9
Power Source requirement

3 phase AC

400

V

/50Hz

3 phase AC

400

V

/50Hz

3 phase AC

400

V

/50Hz

3 phase AC

400

V

/50Hz

3

80V to 460V can be customized

10
Maximum working current
22A
22A
27A
27A


11
S

hort-circuit current

6KA
6KA
6KA
6KA


12
Pressing

arm

Optional/

Pneumatic/Hydraulic

Optional/

Pneumatic/Hydraulic

Optional/

Pneumatic/Hydraulic

Optional/

Pneumatic/Hydraulic



13
Manual

supporting

Without this configuration
Without this configuration
S

tandard configuration

S

tandard configuration



14
Overall dimensions
4100*1100*2150

mm

4

100*1150*2150mm

4

200*1800*2000mm

4

200*2100*2100mm



15
Weight
4050Kgs
4

100Kgs

5

300Kgs

5

600Kgs



16
Working

direction

Optional
Optional
Optional
Optional
R

ight to

L

eft/

L

eft to Right

17
Hydraulic

coil cart

O

ptional

O

ptional

O

ptional

O

ptional