A cold roll former is a metal roll forming machine that can continuously produce metal profiles, generally from steel coils. Besides, the cold roll former line performs additional operations on the line, such as cutting, embossing, punching, and label printing. Cold-rolled steel is more durable and prevents the additional costs of time and materials used to heat and cool the metal. Our company has been manufacturing and delivering a wide range of cold roll formers and has numerous applications from automobiles to planes, appliances, and houses.
Applications of Metal Roll Forming

The applications of metal sheet roll forming machine have become so much necessary in almost any metal-based industry today, and so much important to get good business. For example, automobile industry, steel building industry, decoration industry, transportation industry, storage industry and traffic industry, etc.
Metal Roll Forming in Construction and Building Industry:
Metal Roll Forming in Automotive Industry:
Metal Roll Forming in Storage Industry:
Display shelves

Storage racks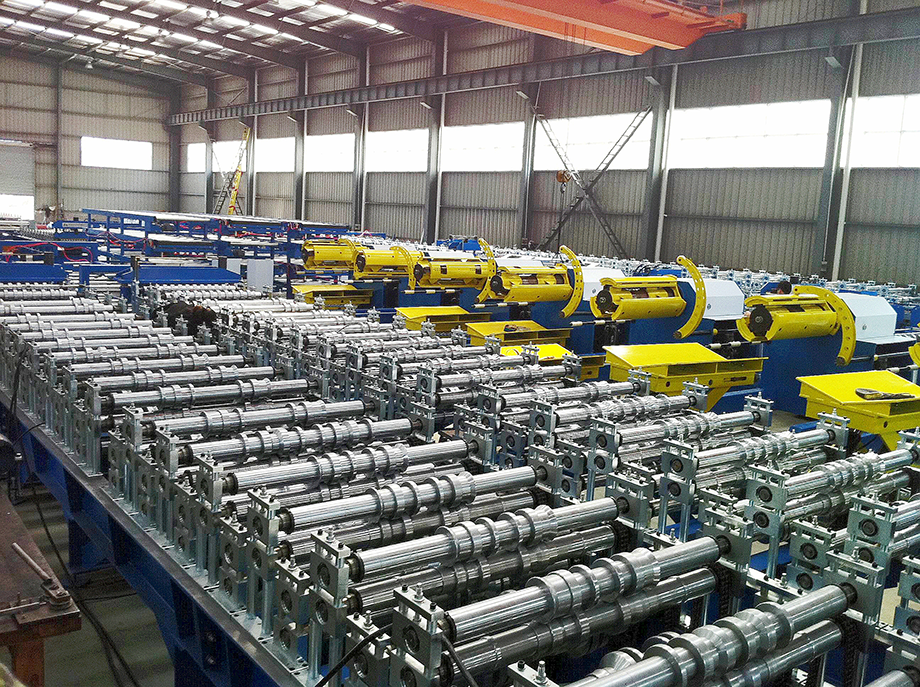 The Significance of Roll Forming Machine
Not only a roll forming machine can provide high-quality products, but also decrease human labour, time and increases the profit of the business, thanks to automation or continuous running.
Compared to regular metal fabrication equipment, like sheet metal press brake, metal sheet shearing machine, press machine, and straightening machine etc, a roll former line usually can do all the jobs, like bending, cutting, pressing for holes, straightening, and even stacking.
Generally, the metal sheets are sent to continuous rollers or stands which will apply pressure on each iteration to bend the sheet. This process is continued until we are done with the offered cross-section.
Common Types of Roll Forming Machines
There are various types of machines used in rolling metals into shape. The type depends on the number of spindles used in creating various shapes as may be considered appropriate. The spindles are normally mounted on the baseplates of the roll forming machine, creating a base table for the rolling process. Once mounted on the baseplate, the rolls are then aligned with the spindles, whose rotation rolls the metals to shape. For excellent results, spacers are used to hold the rolls in position, while allowing the spindles to easily act on the mounted metal sheets or rods. As a professional manufacturer in making China forming machine, HZ roll forming sells a wide range of different roll forming machines.
Single Duty Roll Forming Machines
These are designed to work on a particular cross-section of the profile connected to the spindles. Each roll is also strategically positioned at a point where it can easily work on the rods while creating ease of changing without interfering with the functionality of the other spindles.
Standardized Rolling Machines
They are designed with their outbound supports being easily accessible to the operators. As a result, the working tool (spindle) can be easily removed, changed or adjusted to yield different profiles on the same material being rolled.
Side-by-side Machines
These are designed to accommodate multiple profiles, each containing more than one set of rolling tools. With the tools being mounted on the spindle's shaft, their control can be easily done since all the spindles have the working tools being controlled by a single shaft.
Double-headed Machines
Advanced in their working capability, double-headed machines have two separate sets of housings and rolling shafts. The shafts are arranged and designed to face one another, with their housings being highly adjustable to different widths.
Rafted Machines
The last class of roll forming machines includes rafted machines, whose housings and spindle shafts have particular common rolling tools mounted on them.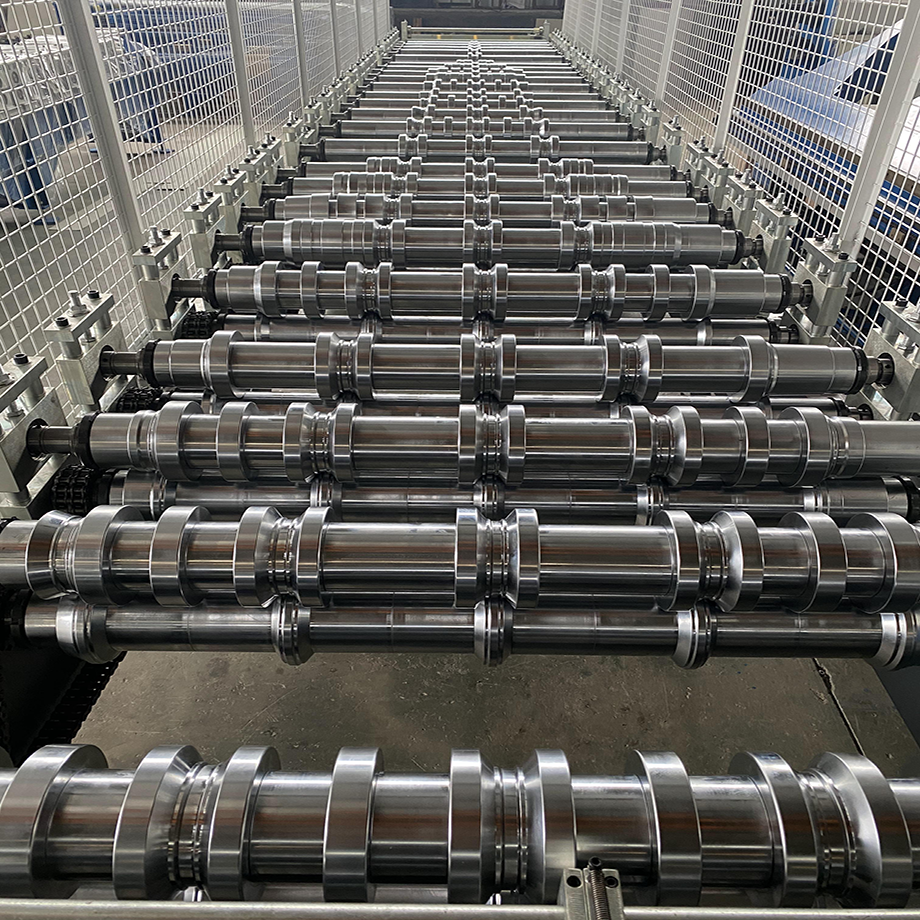 Roll Forming Machine Design

All Roll forming machine in the industry has the same basic design, a roll forming machine includes:
DE COILER: to load raw material coil on that and open coil to a sheet, based on forming speed.
Feeding roller and leveling: after recoiler material should be straightening and leveling before forming to has a better result from forming steps. so we add leveling station in the first part of a machine but mostly is used for more than 1 mm thickness.
Pre-punching and marking: some of the wholes should punch before forming based on design, also upon requirement. we will add a marking roller before forming stations.
Forming stations: the number of stations based on thickness and shape each drawing need a different forming station number.
Torque head or final guide: in any roll forming machine last station before cutting should be torque head, to modify length twisting and turning to have a final 6-meter length in standard accuracy and shape.
Cutting or saw machine: at the end of forming machine we install the cutting system that is hydraulic or mechanic saw, and it can be flying to make non-stop cutting. it's up to forming machine speed and budget requirement.
Electronic cabinet: in developed manufacture use PLC CONTROL to program and set machine. This is the machine brain for control and manage to punch, cutting, speed, feeding.
We select match HDMI, DRIVE, PLC, ENCODER with machine electronic motor to reduce PLC error as much as it can.